Garden Wildlife Week
The sun is shinning and the birds are chirping in celebration of Garden Wildlife Week!
Britain was once entirely covered in woodland and home to many wildlife species. But with habitats declining, our gardens are increasingly important spaces for creatures to access food, water and shelter. There are an abundance of ways to make wildlife welcome into your garden.
In line with wanting to help as many people as possible take part this year; this blog will be full to the brim of helpful tips, tricks and ideas on how to best welcome any and all new wildlife enjoy their stay during the months to come.
tpet-googlead
Go Wild!
Leaving nature to its own devices and letting your garden get messy is a great way of creating a space animals will feel at home. However, it doesn't mean you need to have an overgrown garden that you can't enjoy yourself.
Instead, make a compromise by leaving certain areas or corners to grow, or look into getting a wildflower meadow full of flowers such as daisies, corncockle, cow parsley and columbine.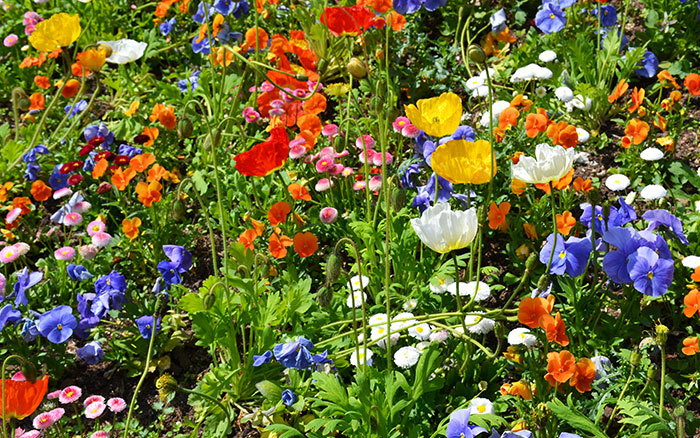 Not only can you enjoy the beauty of the wildflower area, but pollinators will love it too, so you will be giving bees and butterflies a helping hand to access nectar and pollen.
A major benefit of leaving sections of your garden untamed is that they are wonderfully low maintenance 😉 ; so that leaves you extra time to focus on those spots outdoors that you want to spend more time in.
LOL – Lots of Logs
To accommodate the smaller creatures in your garden, gather wood from your own outside jobs, as well as any from family or friends who may have some. When you've got enough wood, stack it up to form a heap with different sizes on top of each other.
To stop the stack from rolling away, stick a stake into the ground on both sides to act as a barrier.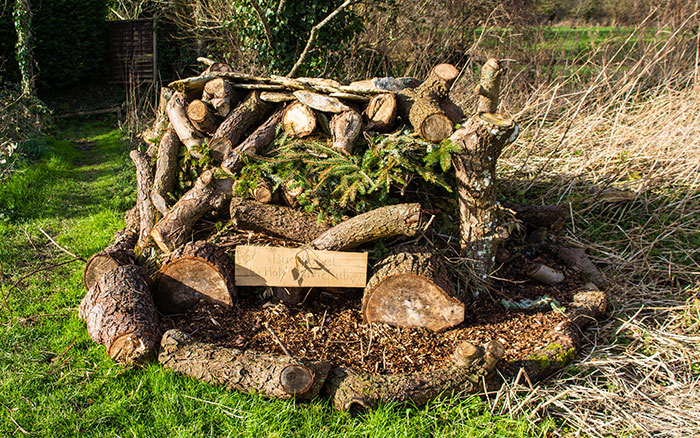 Many critters, such as beetles, centipedes and woodlice, will love the dark and damp setting. So keep the wood damp by burying the first layer a few centimetres into the soil. Or if it's looking particularly dry, give it a spray with a hose.
A place that is in partial shade is best because anywhere in too much sun will mean the pile will dry out.
Take a look here for more guidance.
Happy Hedgehogs
Hedgehogs can be brilliant for your garden, as they eat slugs and snails, making them the protectors of your prized flower patch. These creatures need neighbourhoods of linked-up gardens to get around, so here are a few ways to adapt your garden: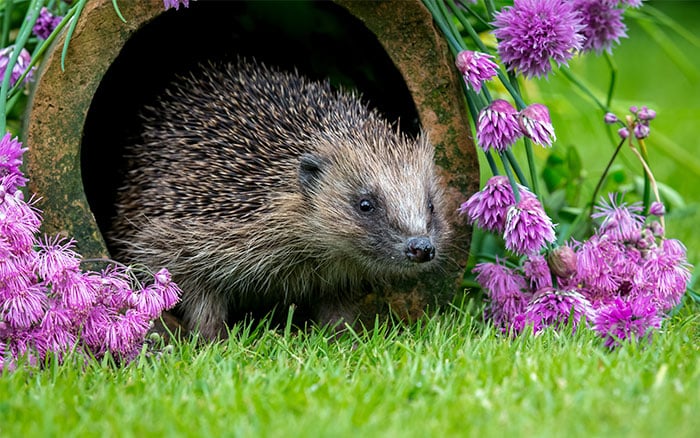 • To ensure hedgehogs have access to all the food they need, cut a 13cm2 hole in the bottom of your garden fence or replace them with hedgerows as permeable boundaries, to allow hedgehogs to roam freely.
• Provide sheltered space in the form of a hedgehog house as a safe space to raise litters of hoglets. A log pile or a simple space under a shed with dry leaves and straw will offer a cosy place for them to stay. Take a look here for more guidance.
• Leaving out food and fresh water will keep hedgehogs coming back for more. A perfect offering is tinned cat and dog food, or purchase specialist hedgehog food from a garden centre. Place the food in your garden at dusk and clear any leftovers in the morning.
Busy Bees
Make a bee hotel
The hardworking bee is any keen gardener's friend. There are several types of bees and not all live in hives, so be kind and make them a lovely place to rest to encourage them to come to your garden to pollinate your plants.
You can easily build one from a mix of wood, hollow reeds, bamboo canes or other textured materials such as pinecones and sticks. It is fun and easy to make and can be built in a variety of shapes and sizes to suit any garden.
Remember to locate your hotel somewhere sheltered, ideally in a south or easterly direction to keep your flying friends warm.
Take a look here for more guidance.
When The Birds Come Flying In
Attracting birds to your garden is easy: supplement naturally available food with bird food, and watch them flock in! Remember to keep feeders and tables clean, so the birds stay healthy and disease-free, and position your feeders in a relatively open area away from predators – the birds will feel safer and visit more!
For steps on how to make your own recycled bird feeder, why not check out our activity resource below.
Resources
We already have a whole range of resources available to download that you can use to help take part in Garden Wildlife Week. We have our Gardening, Big Bird Watch, Bees and Winter Wander resources.
I would recommend starting with these resources from each of their respective topics as well as taking the time to explore their tags to see what other related resources we have to offer.
Have a Great Day!
We hope these ideas have gotten you excited about helping to celebrate and take part during Garden Wildlife Week!
If you have any great teaching ideas for this topic, feel free to comment them below and they might even get added to the topic calendar!