Insect Week
National Insect Week is a unique initiative to promote awareness of insects and their importance in the UK and around the world. It is organised by the Royal Entomological Society and is supported by thousands of people and organisations up and down the UK.
An incredibly popular Insect Week Photography Competition is launched during the week and attracts entries from a huge number of amateur photographers.
The awareness week was set up to initially promote the importance of insect science to the wider public, Insect Week particularly aims to encourage young people into entomology.
Why Are Insects Important?
Insects are crucial components of many ecosystems, where they perform many important functions. They aerate the soil, pollinate blossoms, and control insect and plant pests. Many insects, especially beetles, are scavengers, feeding on dead animals and fallen trees, thereby recycling nutrients back into the soil.3 Oct 2019
The incredible secret life of London's bees – BBC
With enormous open spaces available, London's bee population is thriving, discovering innovative and new ways to adapt to city living.
More than a billion people around the world commute into cities each day, and they are not alone. The world's wildlife is commuting too. A steady flow of animals journey in and out of cities to find food and shelter or to start a family. Leaving the wilderness they must overcome the unique challenges that the urban world throws at them to benefit from the opportunities on offer.
This episode explores whether the secret to an animal's success in this fast-changing world is to keep one foot in the wild and one in the city, becoming a wild commuter.
Insect Habitats
Log House
To accommodate the insects that may be lurking in your garden, gather wood from your own outside jobs, as well as any from family or friends who may have some. When you've got enough wood, stack it up to form a heap with different sizes on top of each other.
To stop the stack from rolling away, stick a stake into the ground on both sides to act as a barrier.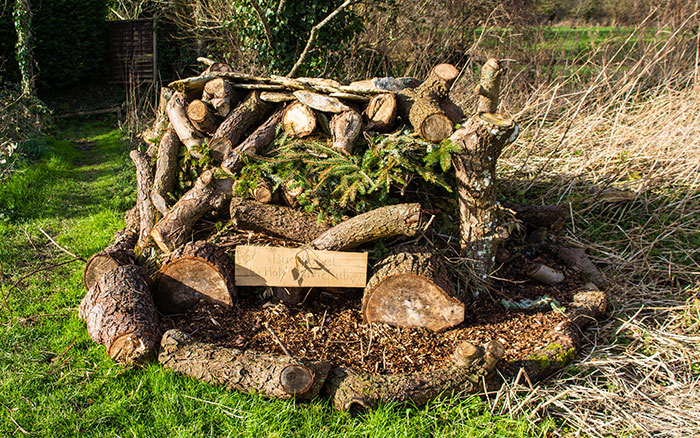 Many critters, such as beetles, centipedes and woodlice, will love the dark and damp setting. So keep the wood damp by burying the first layer a few centimetres into the soil. Or if it's looking particularly dry, give it a spray with a hose.
A place that is in partial shade is best because anywhere in too much sun will mean the pile will dry out.
Take a look here for more guidance.
Make a bee hotel
The hardworking bee is any keen gardener's friend. There are several types of bees and not all live in hives, so be kind and make them a lovely place to rest to encourage them to come to your garden to pollinate your plants.
You can easily build one from a mix of wood, hollow reeds, bamboo canes or other textured materials such as pinecones and sticks. It is fun and easy to make and can be built in a variety of shapes and sizes to suit any garden.
Remember to locate your hotel somewhere sheltered, ideally in a south or easterly direction to keep your flying friends warm.
Take a look here for more guidance.
How to take part
One of Insect Week's primary activities is an event in which the general public to go out into their gardens between a certain date and look for any and all insects that inhabit their garden.
The more people that get involved each year means that the data points can be more accurate. The data collected from each area is used to correlate which areas have the most and least diverse insect population.
You can use iRecord on your phone in your garden or at home when you see an insect. Your phone camera can take an image and upload it to the app, so even if you are not sure what the insect is, someone else can hopefully work out the species of insect.
WHAT the name of the species of insect.
WHO the name of the person who found the insect.
WHERE the location the insect was found in; e.g. Ordnance Survey grid reference, postcode or nearest named location.
WHEN the insect was found.
SUBMIT RESULTS; The best way in the UK is to use the smartphone application iRecord which is available on Google Play and in the App Store.
Other information could include the habitat, food plant, time of day, weather, life stage of the insect, trapping or survey method.
Biological records build a picture of where an insect species occurs, when it occurs in the year and the habitat the insect is associated with.
To monitor insect species, and see whether they are increasing or decreasing, detailed biological records to be collated over time. Your records can help 'measure the health' of insects in the UK.
You can also submit records on the iRecord website with an internet browser.
Resources
We have a whole host of resources available to download that you can use to help celebrate National Insect Week. Click here to see all of our National Insect Week resources. Below is just a handpicked selection of resources to help get you started.
Have a Great Day!
We hope these ideas have given you some inspiration for teaching about National Insect Week.
If you have any great teaching ideas for this topic, feel free to comment them below and they might even get added to the topic calendar!